How to find your ideal childcare - step by step
This article will help get you underway with finding the right childcare option for you and your family.
Logan WhitelawJanuary 12, 2022
How to find your ideal childcare – step by step
Finding the right childcare for your child can be challenging and it's a decision that many parents struggle with. There is a lot of conflicting information and opinions out there and all you want is the best for your child – so they are safe, happy and nurtured.
There is no one right choice for everyone as we all want slightly different things for our children, and all have different needs. Finding the right childcare option for your family can be simplified by taking a few easy steps.
This blog post is for you if you're starting to think about childcare options or are looking to change from your existing childcare.
We're parents just like you and we've all struggled with the emotions and challenges of finding the right childcare for our families. That's why we created Kindello – to empower parents to find the childcare that meets their unique needs.
We'll explain how you can easily find, compare and book visits to childcare services so you can be happy that you've made the right choice for your family. We'll give you the seven steps to finding your ideal childcare.
Here's the steps to take to find your perfect childcare. Each step is designed to present you with your options and let you take control of the decision.
1. Search
Most parents want childcare options close to where they live, or close to where they work. Close to home means that children will likely make friends with other children that will end up at the same school. Close to work means that you won't be stressed about fighting traffic to pick up your child at the end of the day.
Simply jump onto Kindello and enter the suburb that you want to search.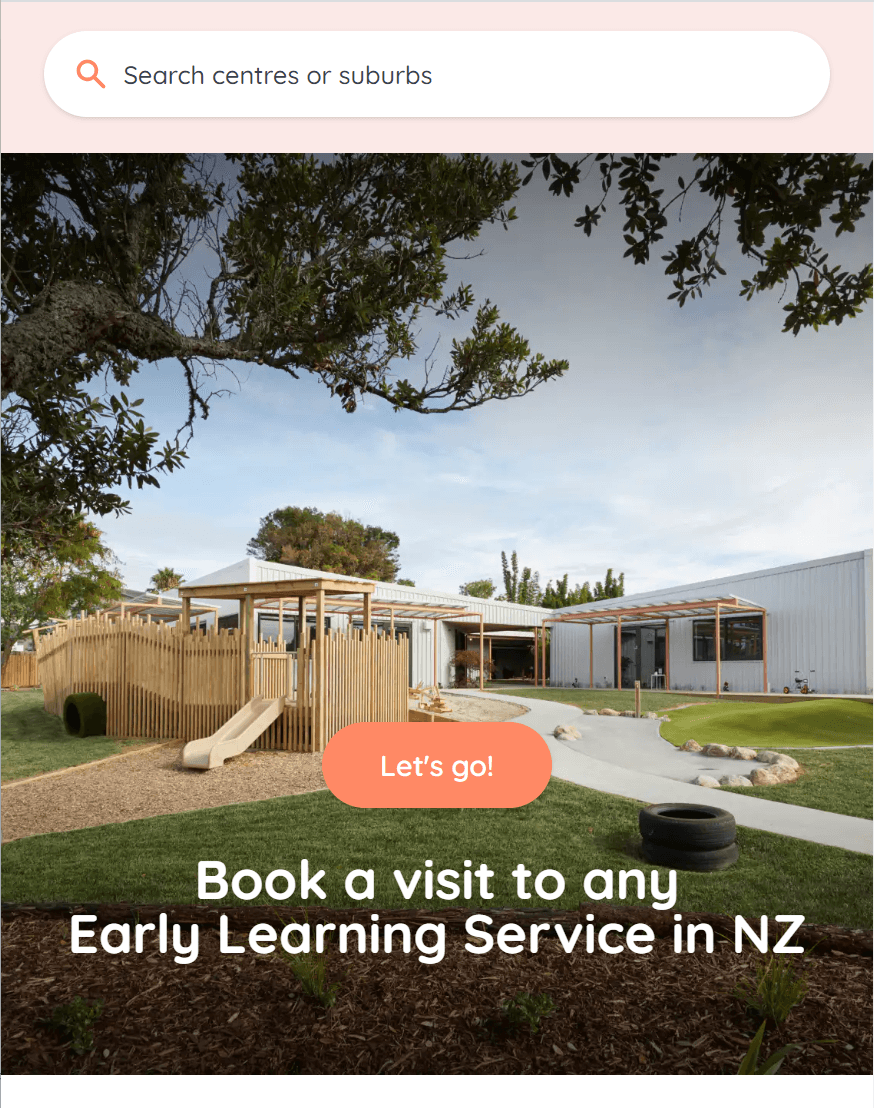 You will be presented with every childcare option within the area. As you zoom around the map, you'll see new results pop up. The top results also display on the left of the screen where you can start to view some details like type of childcare, review scores, features and hours.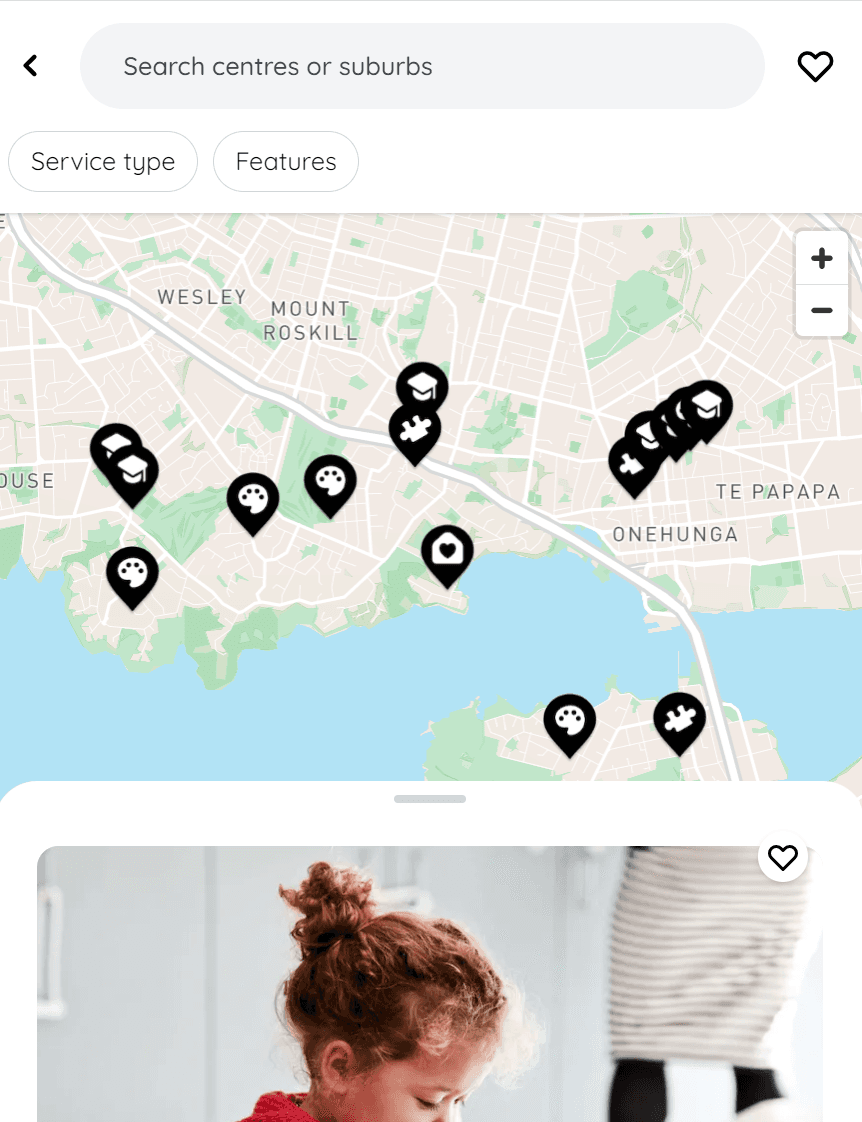 If you want to search for a different suburb, simply enter that into the search bar at the top of the screen.
2. Filter
As we spoke about earlier, there are many different types of childcare to choose from. This means you will be presented with lots of options on Kindello. To make it easier to find the right option for your family, you can filter the results by the following categories: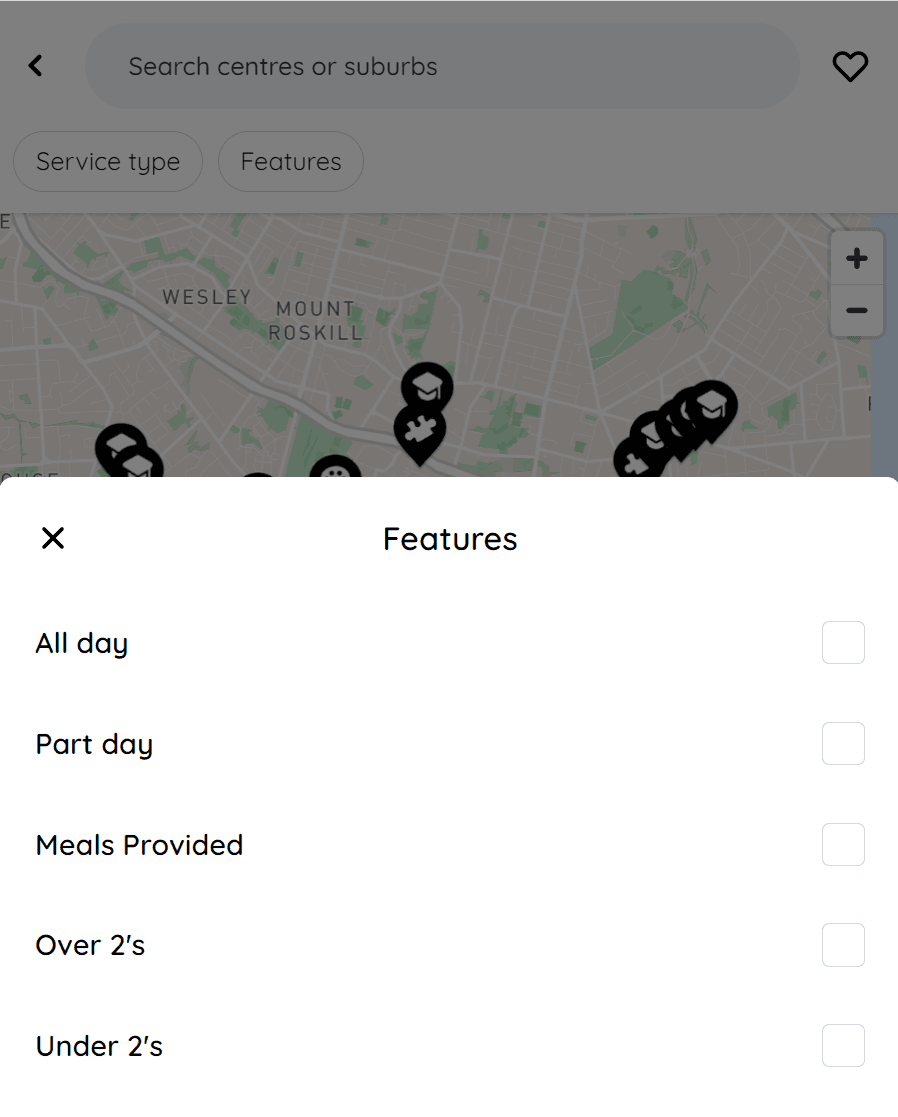 Description of the Filters
We will now go through each of the filters listed above and provide a brief explanation of what they do.
All day
Filter centres that provide care for at least 8 hours of the day. E.g from 9 in the morning until 5 at night
Shorter days
This centre will show you options where you can have shorter sessions, e.g a 3 hour centre at a local playcentre.
Meals provided
This filter shows you all of the childcare services that provide meals as part of the service. This usually includes morning tea, lunch and afternoon tea, and can be a really helpful feature for busy working parents that would love for this to be taken care of.
Over 2's
Typically every centre will provide for children over the age of two.
Under 2's
Not all services will provide for children under the age of two.
Transport
Some centres also provide a pickup van that will come to your home to pickup and drop-off your child. This can be extremely helpful if you don't have access to your own vehicle or do not drive. We've included this as a filter so you can prioritise this feature if you're in that situation.
3. View listings
Once you've searched and filtered your results, jump in and view a few of the listings. You'll find detailed descriptions about what makes a childcare unique and be able to view photos.
Did you know the average parent on Kindello views around 25 listings! This gives you the chance to compare all your options and have a really good look around.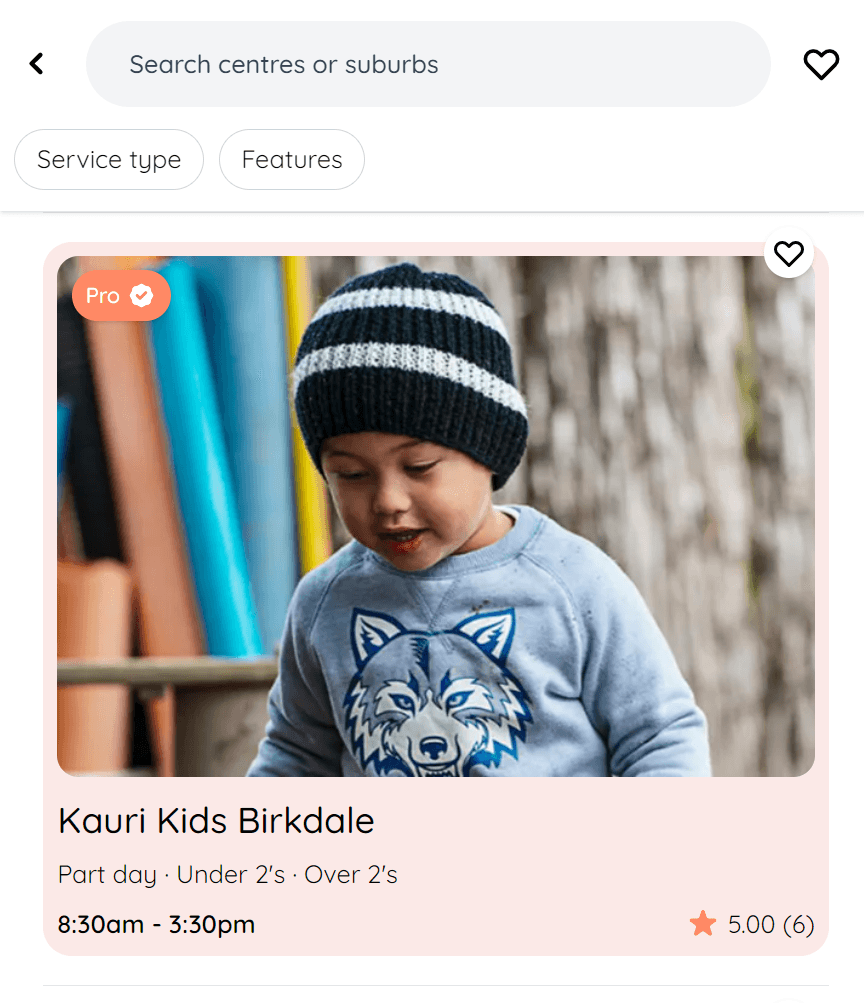 4. Read reviews
We all know that websites tend to be billboards telling you how great the company or service is. Childcare websites can be no different. That's why it's so important to find trusted and impartial reviews and be able to compare apples with apples. While you're checking out the detailed description on the childcare listing, have a read of the review comments from parents just like you. Kindello reviews are unique as they measure the quality of a childcare service across the six key areas that parents say are the most important:
Indoor area
Outdoor space
Teachers and carers
Communication
Value
X-Factor
The reviews on Kindello are all from real parents and are a great way of choosing which centres to visit.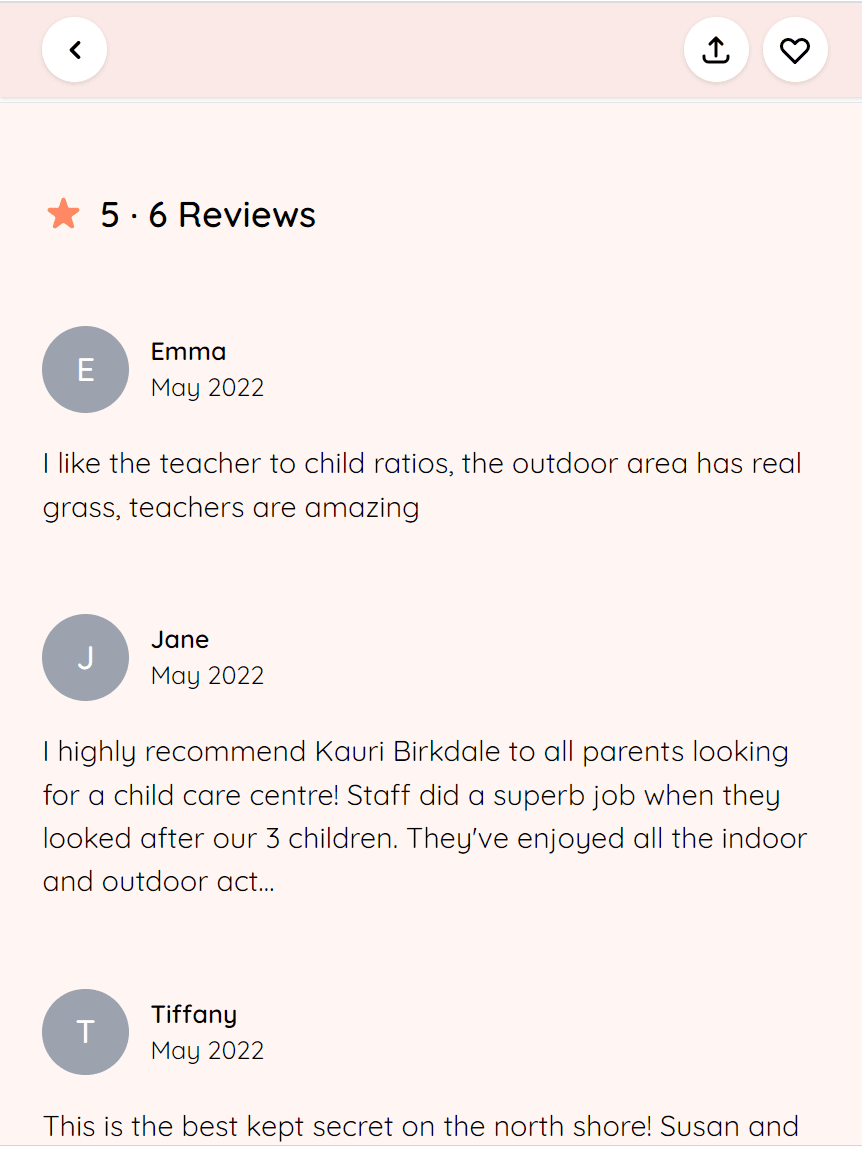 5. Favourite and share
Once you've found a few childcare services you've liked, don't forget to favourite these so you can come back to them later and show your partner, friends or family. You can also share a listing directly with others by clicking the share button on the listing. It's great to get others opinions to help you consider which centres you want to visit – so share as much as you like.
6. Book a visit
Once you've favourited your top choices, it's time to book visits to see the childcare services in person. Kindello makes it super easy to book and manage visits to multiples childcares all in one place with no need for emails, phone calls and endless admin. Simply visit your top listings and click "Book visit." You can request your preferred day for a visit and your request is instantly sent to the childcare provider. From here you can also use Kindello Chat (check your messages in your parent profile) to send an instant message to the childcare if there is anything you want to ask. Most parents on Kindello are booking visits with five childcares, and because everything is in one place, this can all be done in a couple of minutes.
7. Visit
Visiting a childcare service is the only way to know if this is the right option for your family. Each service will have it's own requirements for the visit (times, days etc) and they will inform you of these through the booking chat on Kindello.
We'll be providing a detailed guide of what to look for during a visit, so keep an eye out for that guide in the near future.
Summary
Finding, comparing and booking visits to the ideal childcare for your family has never been easier. As long as you follow our seven easy steps above, you'll find the best childcare option for your child. With a diverse range of childcare options available there is something for every family. Our key tips are to:
Understand the types of childcare in New Zealand;
Search by where you live or work;
Filter by the things that matter to you;
View as many listings as you can and favourite those that resonate with you;
Book visits to at least five so you can really get a sense of what works for your family. Have a look around your area now and see what amazing childcares are available for your family.
More articles