10 Great Board Books for Toddlers
Board books are a great way to get little ones involved in (and excited about) reading. We spoke to the team at Little Unity bookstore in Auckland City to get some excellent board book suggestions for young readers. Check out the list below!
Sara DunlopMarch 08, 2023
Board Books
Board books are perfect for infants and toddlers learning to become little readers. They have thick, sturdy pages that are difficult for young children to tear, bend, or damage.
Board books typically feature simple stories and bright, colourful illustrations to capture young children's attention and imagination. They may include interactive features like lift-the-flap pages, touch-and-feel textures, or sound buttons.
An excellent way to introduce young children to the world of reading, board books help to develop their cognitive, language, and fine motor skills. They are widely available in bookstores, libraries, and online. Check out our recommendations below for ten great board books for toddlers!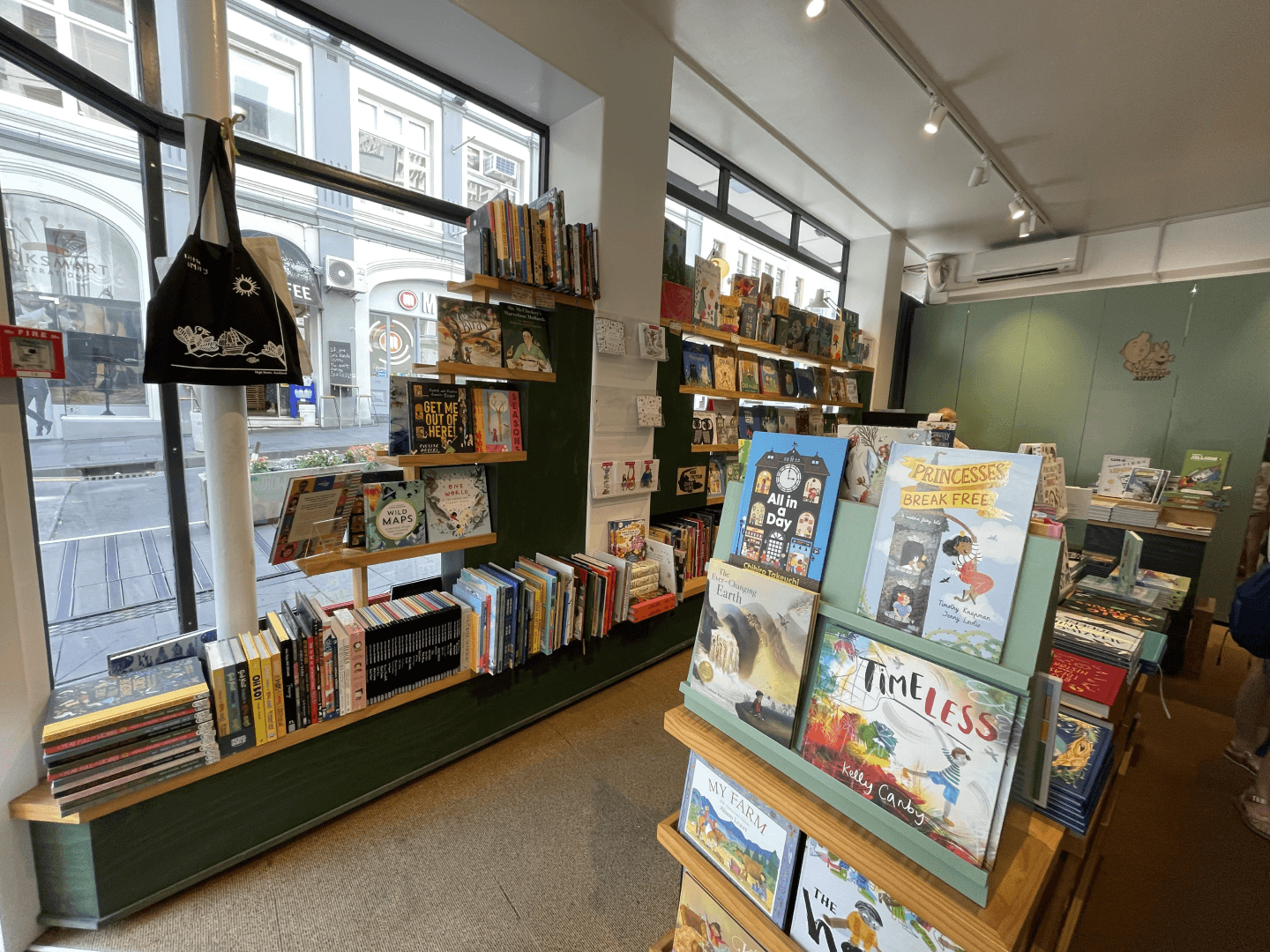 Little Unity
A beautiful children's bookstore in the heart of Auckland City, Little Unity 'live and breathe amazing books for the young (and young at heart!)'. Little Unity is next door to Unity Books at 19 High Street, Auckland CBD, or head to their website.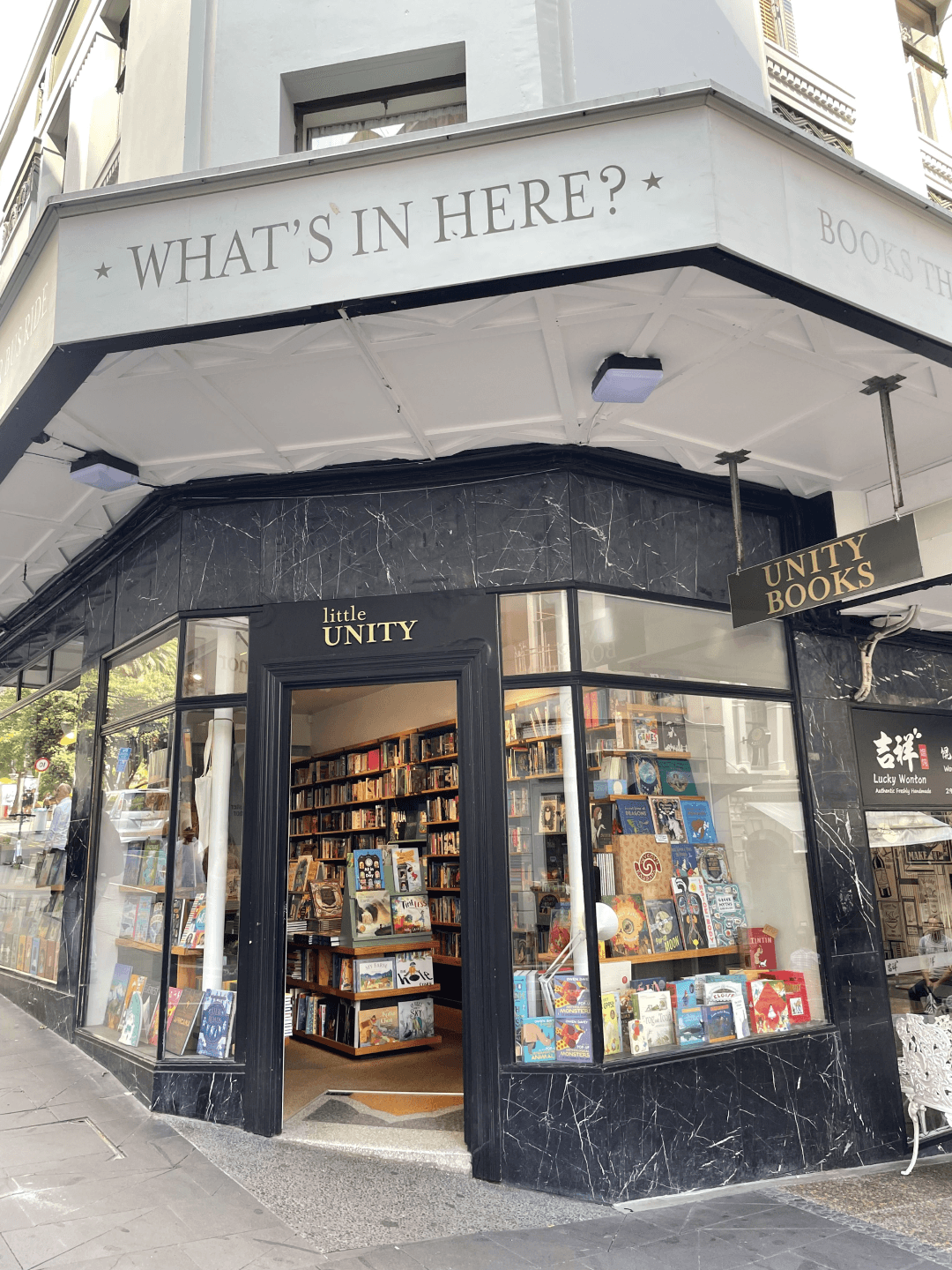 10 Great Board Books for Toddlers
Frederick (Leo Lionni's Friends): A Lift-the-Flap Book - by Leo Lionni
Winter is coming, and all the mice are gathering food . . . except for Frederick.
But when the days grow short and the snow begins to fall, Frederick's stories warm the hearts and spirits of his fellow field mice. Winner of a 1967 Caldecott Honor, Frederick has been cherished by generations of readers.
Big Emotions for Little People - by Rebekah Lipp and Craig Phillips
This board book is a simplified version from the best-selling book, How Do I Feel? A Dictionary of Emotions for Children. It helps to introduce our little wildlings to emotions and how they might look, using other toddlers so they can recognise themselves in the illustrations, which is very important.
When we help young children label their emotions, it helps them to understand and manage what they are feeling and to improve their emotional literacy as they grow.
When big emotions come to visit, use the simple belly-breathing tool at the back to help your child find their way back to calm. This is a simple yet effective tool in helping children manage big emotions. Used regularly it can really help a child to learn to manage and regulate their own emotions over time.
The board book covers just ten emotions, we picked the ones that toddlers might experience and resonate with, and they are:
I feel ...
Silly, Angry, Curious, Sad, Excited, Scared, Happy, Frustrated, Shy, Confused, Loved
The last page covers a simple way to blow big emotions away with deep breathing.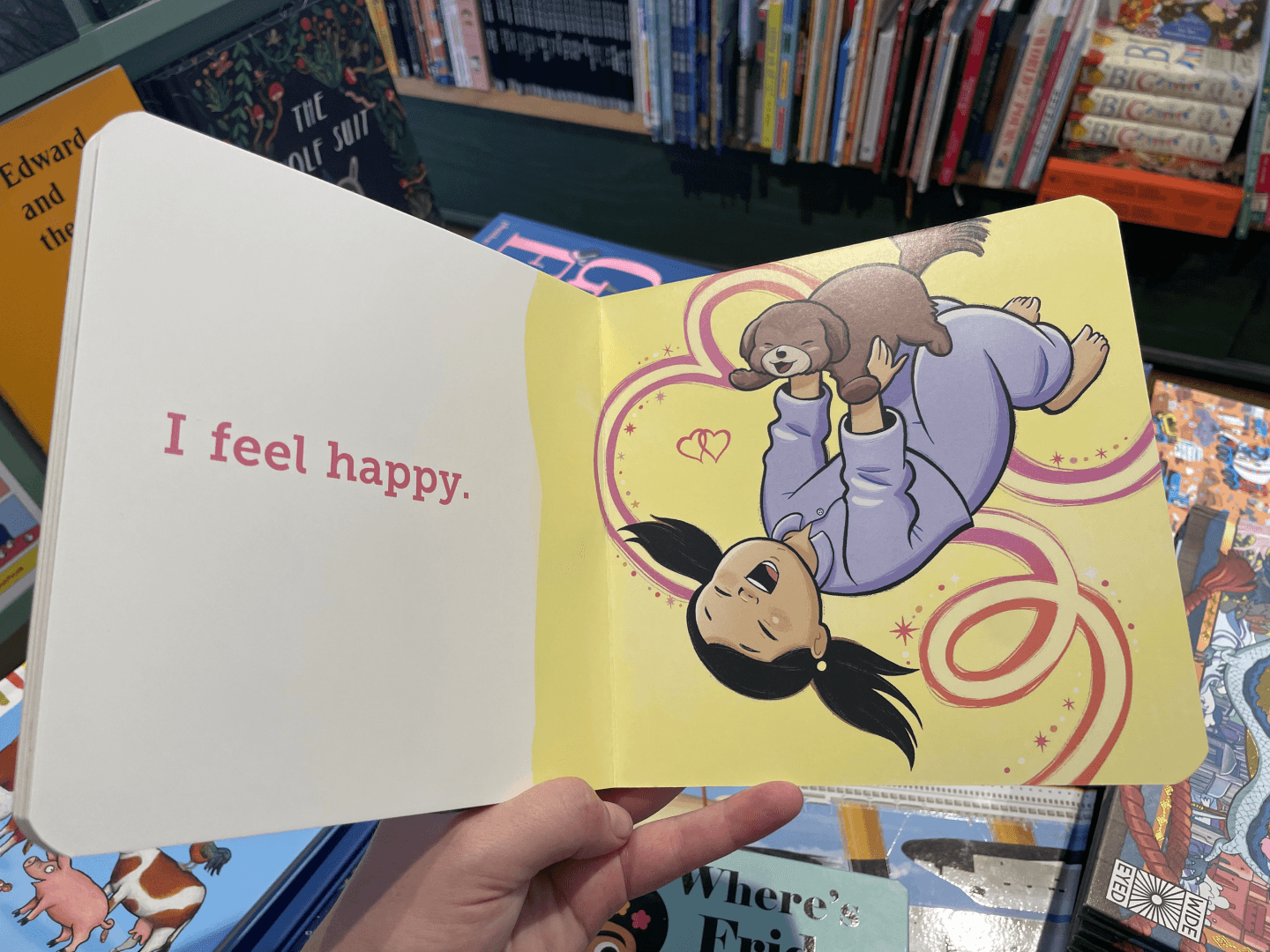 5 Wild Animals – by Happy Yak, illustrated by Margaux Carpentier
With gentle rhyming text and eye-catching, brightly-coloured illustrations, this interactive board book introduces some of the wild animals we share our planet with. Simply put your finger on the disc and move it along the trail to trace the shape on each page. Perfect for developing hand-eye co-ordination.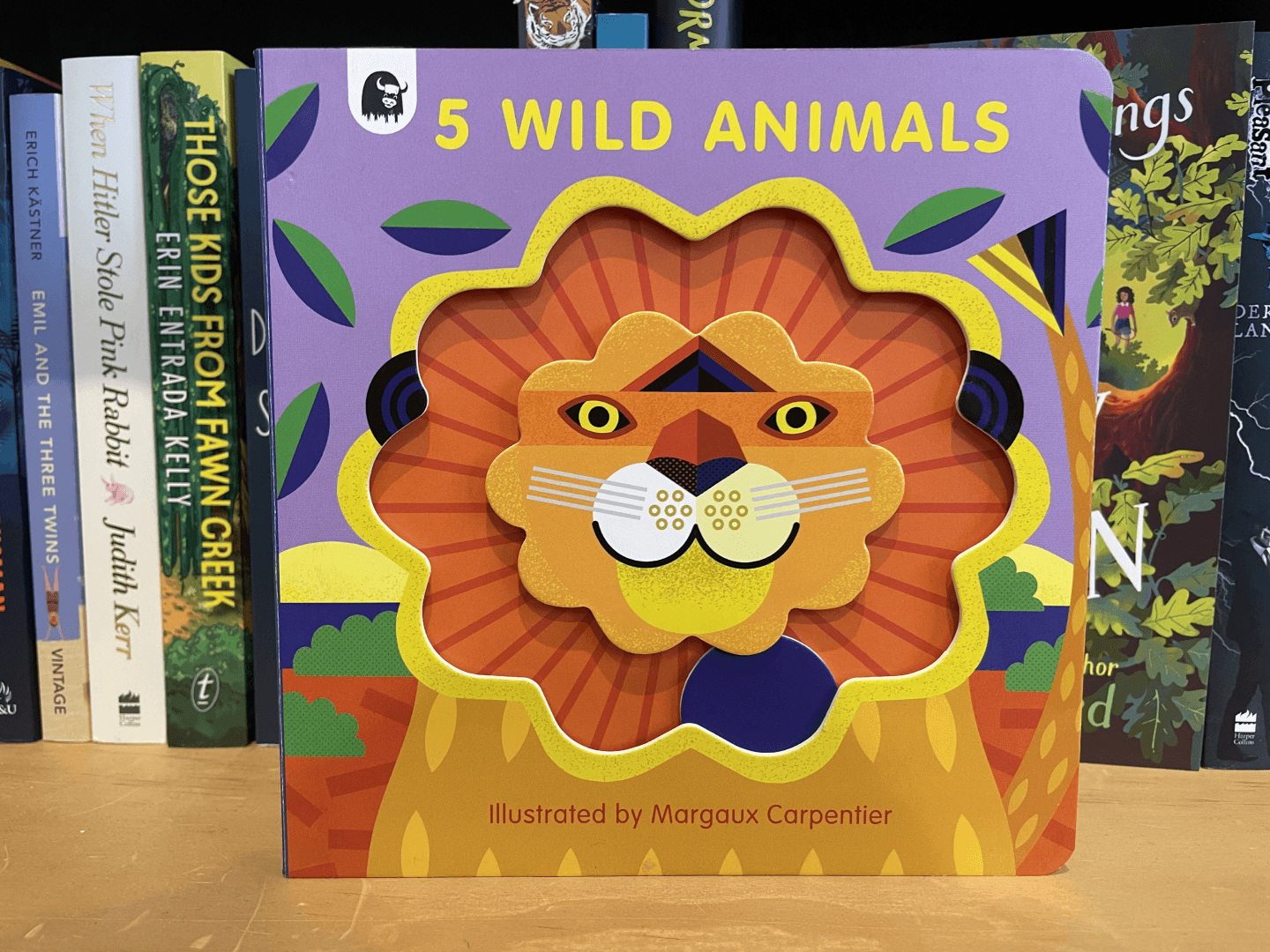 Cat & Mouse – by Britta Teckentrup
This charming book about a cat and a mouse features cut-outs that help teach young readers about prepositions in a fresh, innovative way.
The perfect place for a mouse is inside a cozy, warm house, but a cat lives there too, and once the cat sees the mouse, a chase ensues. As the cat and mouse scurry about--on top of a chair, inside a box, outside a window, through a hole--young readers will learn about important prepositions that help them understand where one object is in relation to another. At the end of this colorful chase, the cat and mouse curl up together and nap until they're ready to start the whole thing again. Britta Teckentrup's eye-catching, simple illustrations are cleverly enhanced with cut-outs that help reinforce the words, providing a unique and fun interactive experience that teaches young readers about basic prepositions.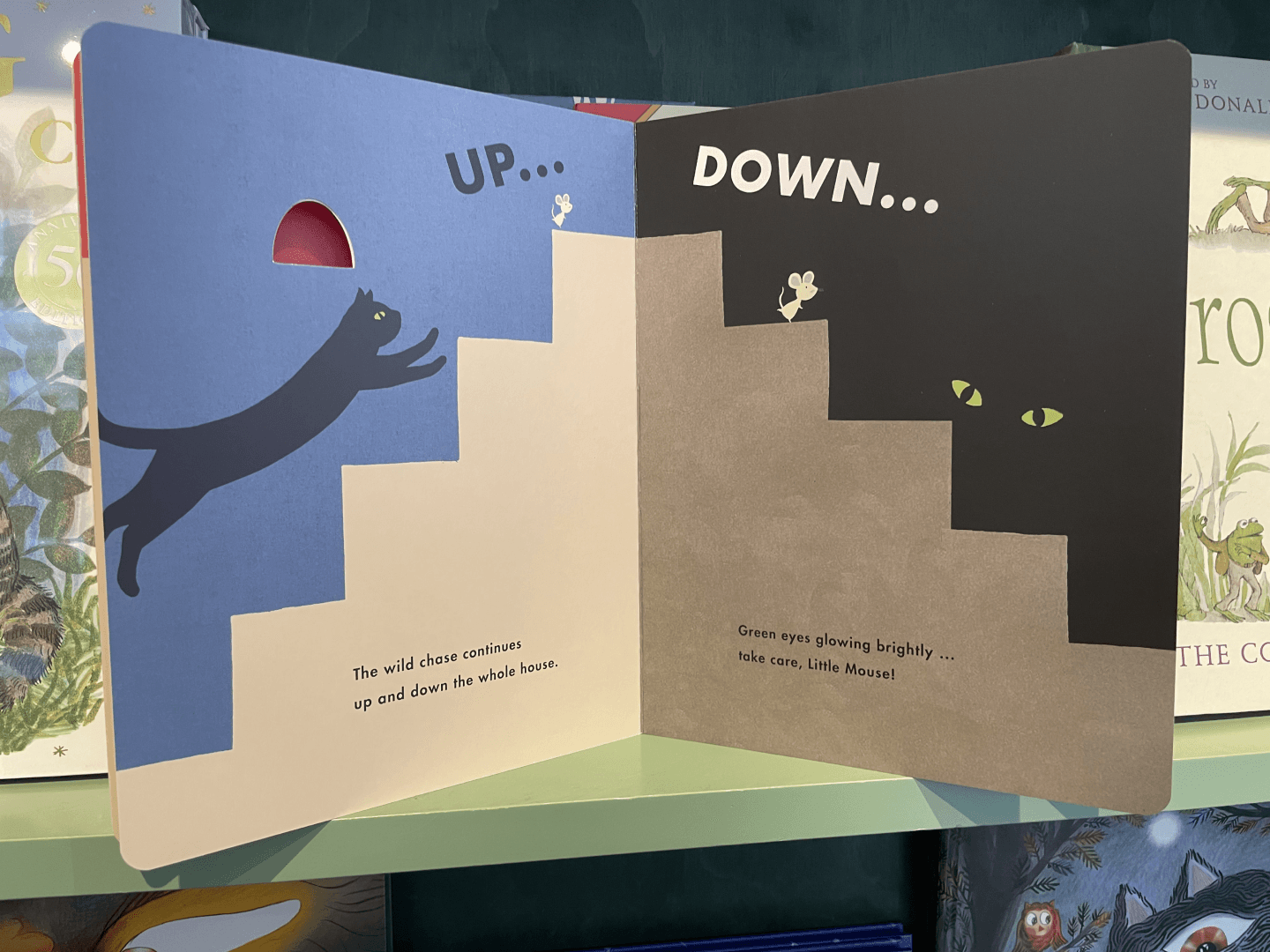 Revolting Things to Touch and Feel – by Roald Dahl
What does a giant's foot feel like? How about a rotten egg, or a bumpy crocodile?
Find out in this book that's full of the most REVOLTING things to touch and feel.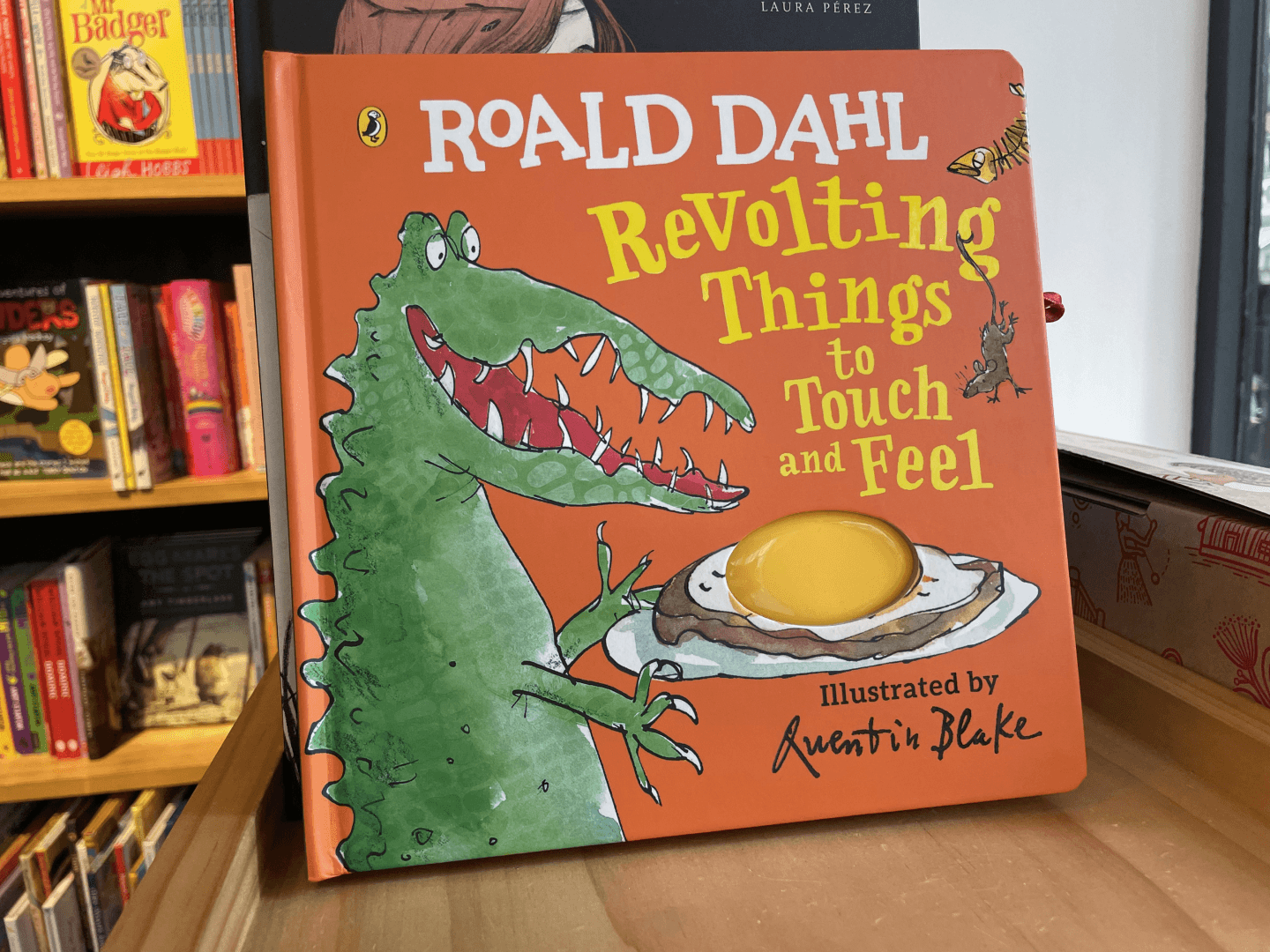 Pop-up Ocean – by Ingela P Arrhenius
Dive into a cool underwater who's who and what's what of the sea in this palm-size pop-up treasure. Discover ocean dwellers like the crab, octopus, and sea horse as they make a splash in vivid hues of coral and ultramarine and swim through spreads featuring familiar aquatic items — from a fishing boat to a lighthouse to a submarine.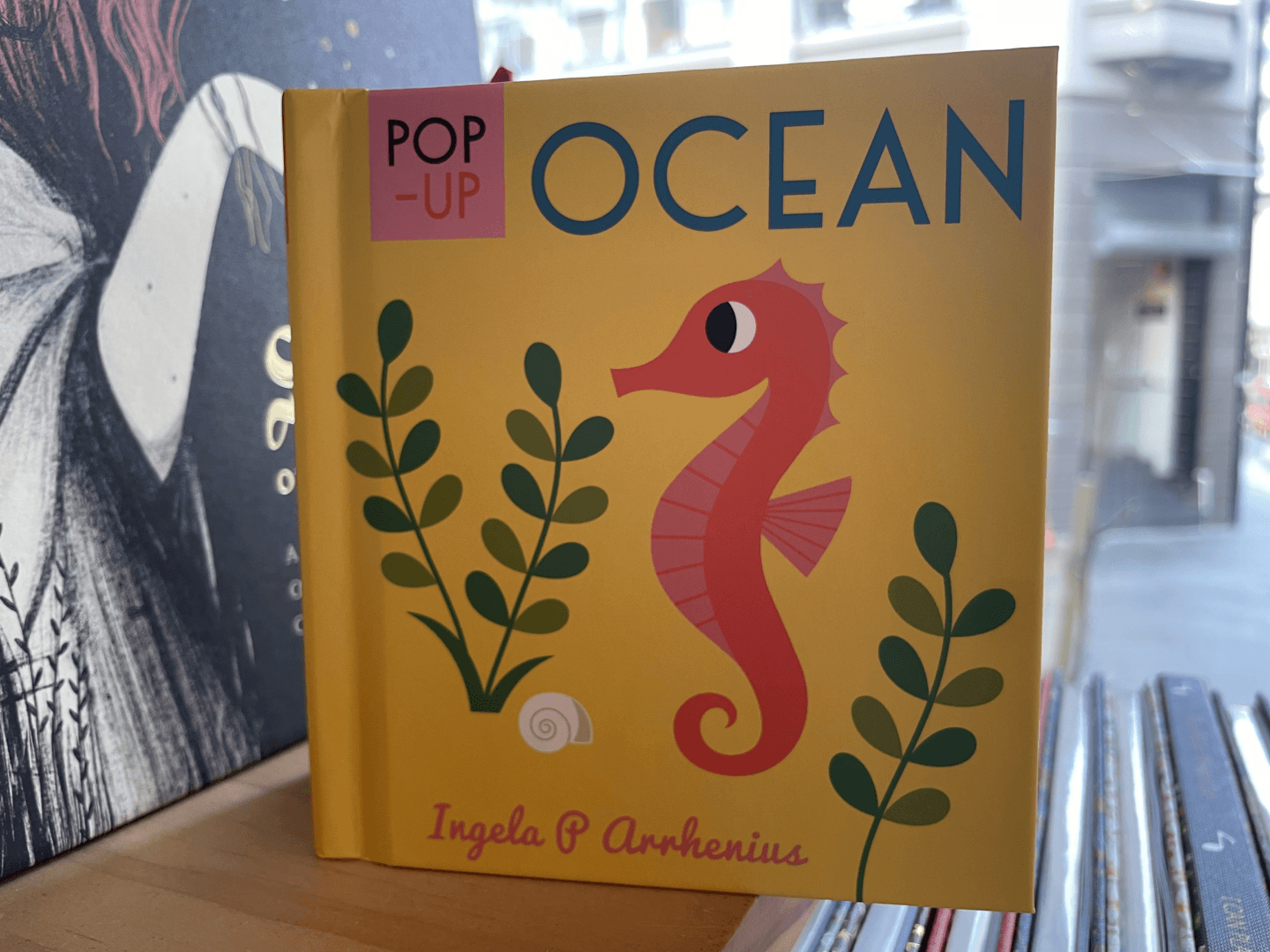 Two Dogs on a Trike: Count to Ten and Back Again – by Gabi Snyder, illustrated by Robin Rosenthal
Count up to 10 and back down again in this picture book starring 10 traveling dogs and one very tenacious cat!
One by one, each dog escapes its yard and joins the adventure in this hilarious counting story. Vehicle-obsessed readers will love seeing all the modes of transportation that the pups use—until the family cat decides to round them all up to go back home. Gabi Snyder's charming text and Robin Rosenthal's delightful illustrations are a surefire combination in this winning picture book.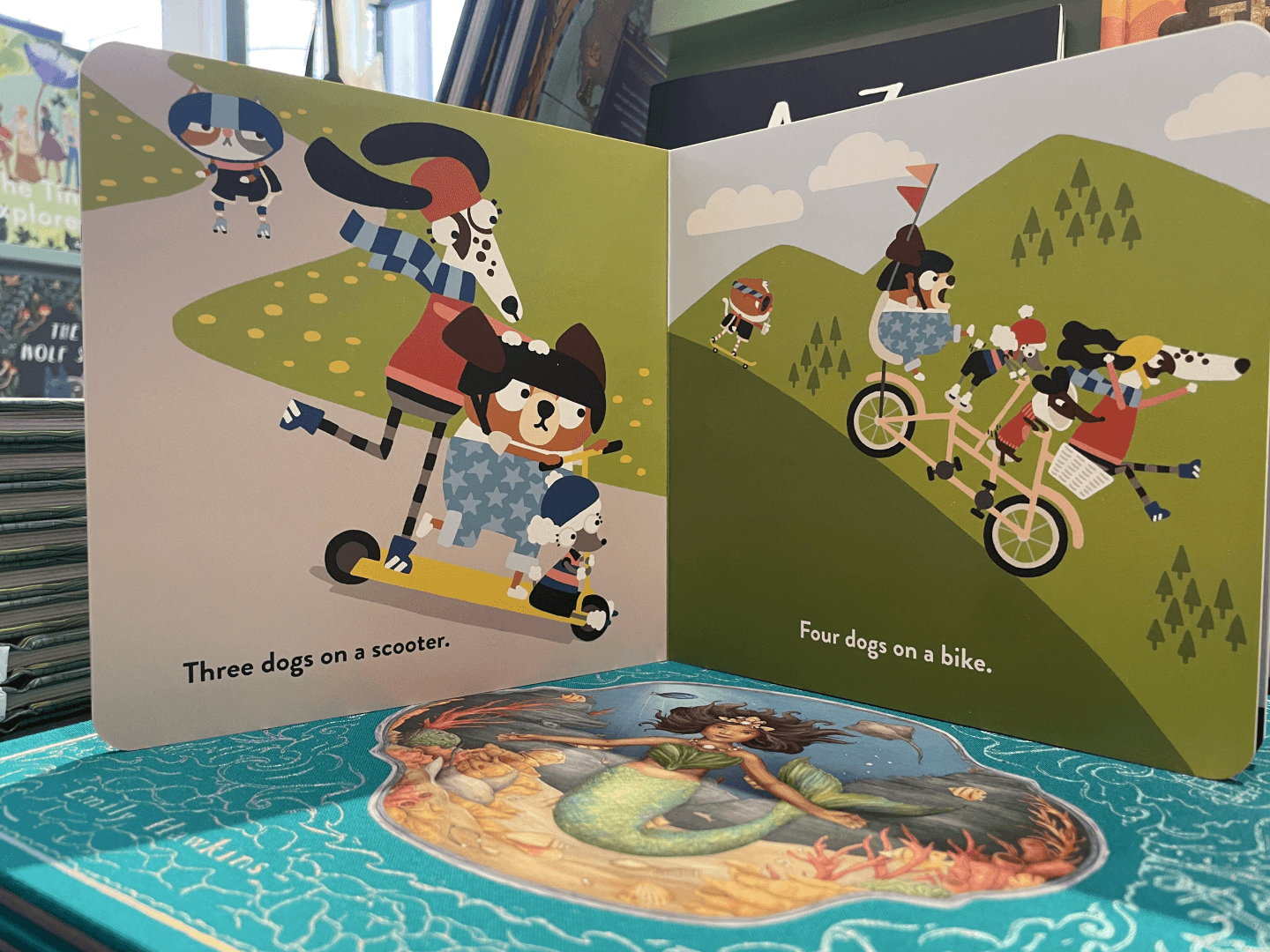 The Noisy Book - by Soledad Bravi
With over 100 pages, this unique boardbook is full of bright, bold illustrations and lots of noises to make. It's perfect to share with a baby or toddler.
A te reo Maori edition is also available, Hoihoi Turituri - by Ruia Aperahama
Who's Hiding on the Farm? – by Axel Scheffler
Help Little Chick look for Mummy Hen in Who's Hiding on the Farm? Lift the felt flaps to see where she is. Which other animals will you find hiding underneath?
With soft flaps on every spread that are easy for babies to lift, helping them develop fine motor skills, and illustrated by Axel Scheffler, bestselling illustrator of The Gruffalo, this is the perfect gift to share with little ones.
Discover more animal adventures from Axel Scheffler: Freddy the Frog, In the Jungle and My First Search and Find: On the Farm.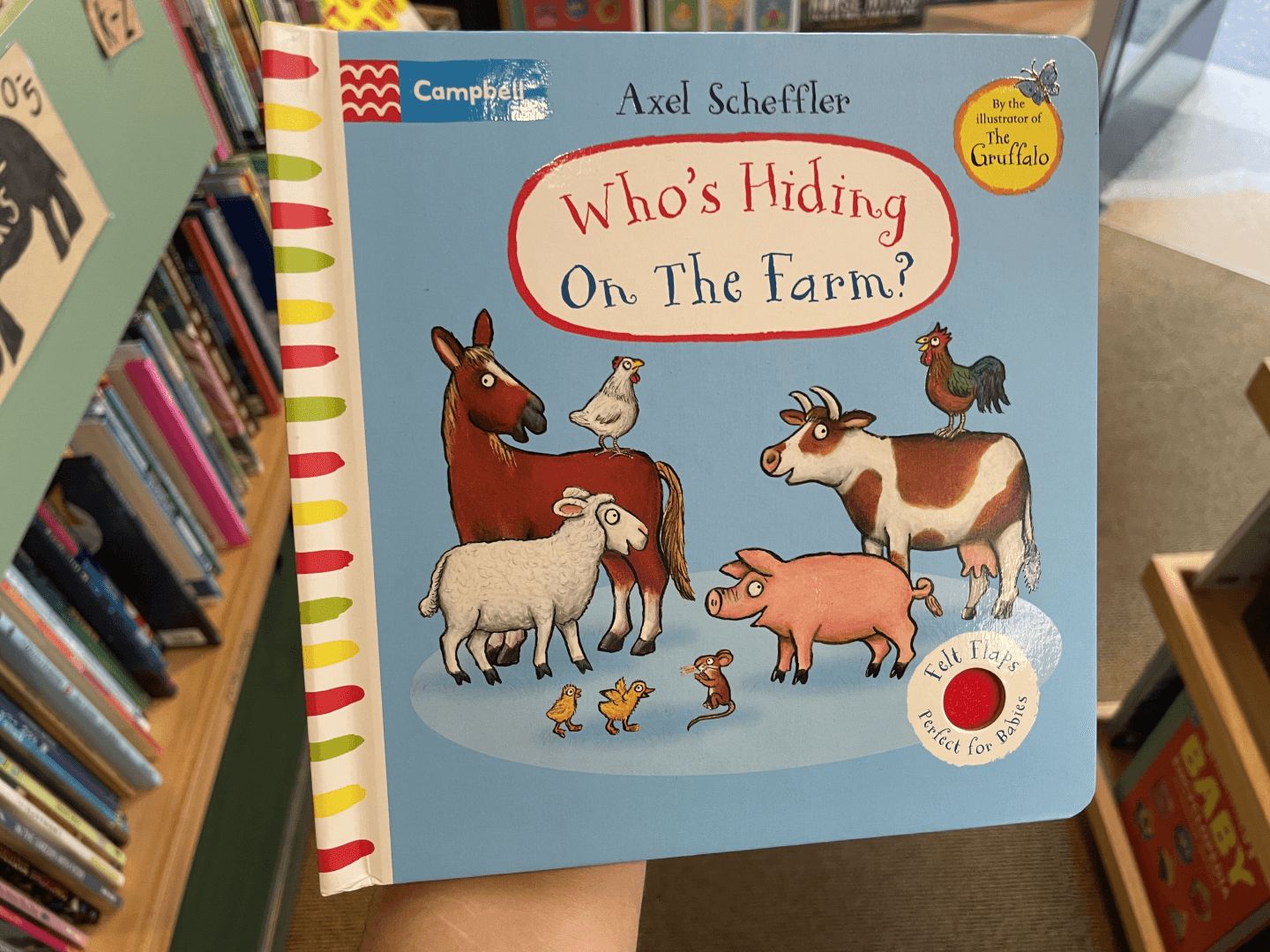 Numbers, Colours, Opposites, Shapes and me! – by Ingela P Arrhenius
Lift the flaps in this engaging introduction to colours, numbers, shapes, opposites and the body for the very youngest readers. A quirky first concepts book with a pop-up on each spread from much-loved illustrator Ingela P Arrhenius.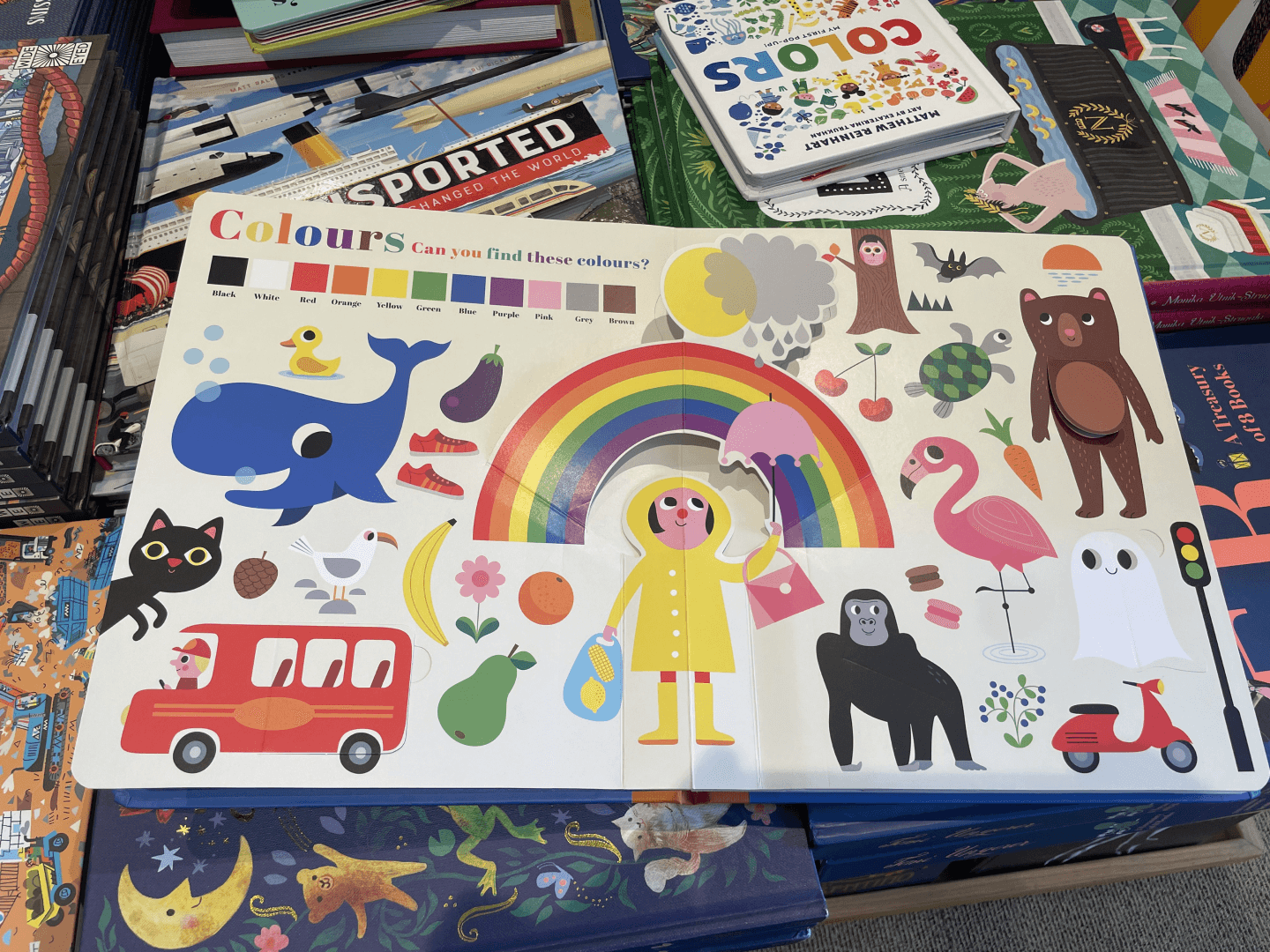 More articles