The different types of childcare options in New Zealand
An article that highlights the different childcare options that exist in New Zealand. Education and Care, Homebased, Playcentre, Kindergartens and Te Kōhanga Reo.
Logan WhitelawJanuary 05, 2022
What are your childcare options?
New Zealand has a diverse early childhood education system with a range of choices for parents. Whilst this provides many options, it can also be confusing for a first-time parent. Before you start looking at any specific childcare provider, it's worth understanding the different types of services in New Zealand so you can narrow down your selection.
Education & Care Centres
Also known as daycare, childcare and preschool. No matter the age or stage of your child, early childhood education and care centres will have individual programs to cater for their growth and education. As the most common type of childcare service in NZ, they are often local and readily available. Education and care centres take a variety of forms, but they all have a few things in common. Every centre is teacher-led (as opposed to parent-led) and at least half of the educators (usually over 80%) will be qualified early childhood education (ECE) teachers. They also all make use of Te Whariki, NZ's standardised ECE curriculum.
Why choose an education and care centre?
Convenience is one of the key reasons parents choose education and care centres. Most centres will be open in time for you to drop your child off before work and will care for them until you're done for the day, making them a popular choice for working parents. There are also a wide range of centres, with an equally wide range of facilities and teaching-styles.
To think about…
Choosing an education and care centre can be a daunting experience. There seems to be a centre on every corner, and each one has varying – and often contrary – reviews. Price points also vary, as do the ratios between teachers and kids. While all of the above is worth taking into consideration, we always recommend visiting the centre to see if the culture is right for you and your whānau. This is where the abundance of options comes in handy. You can visit a few in your area and get a sense of what you like and don't like.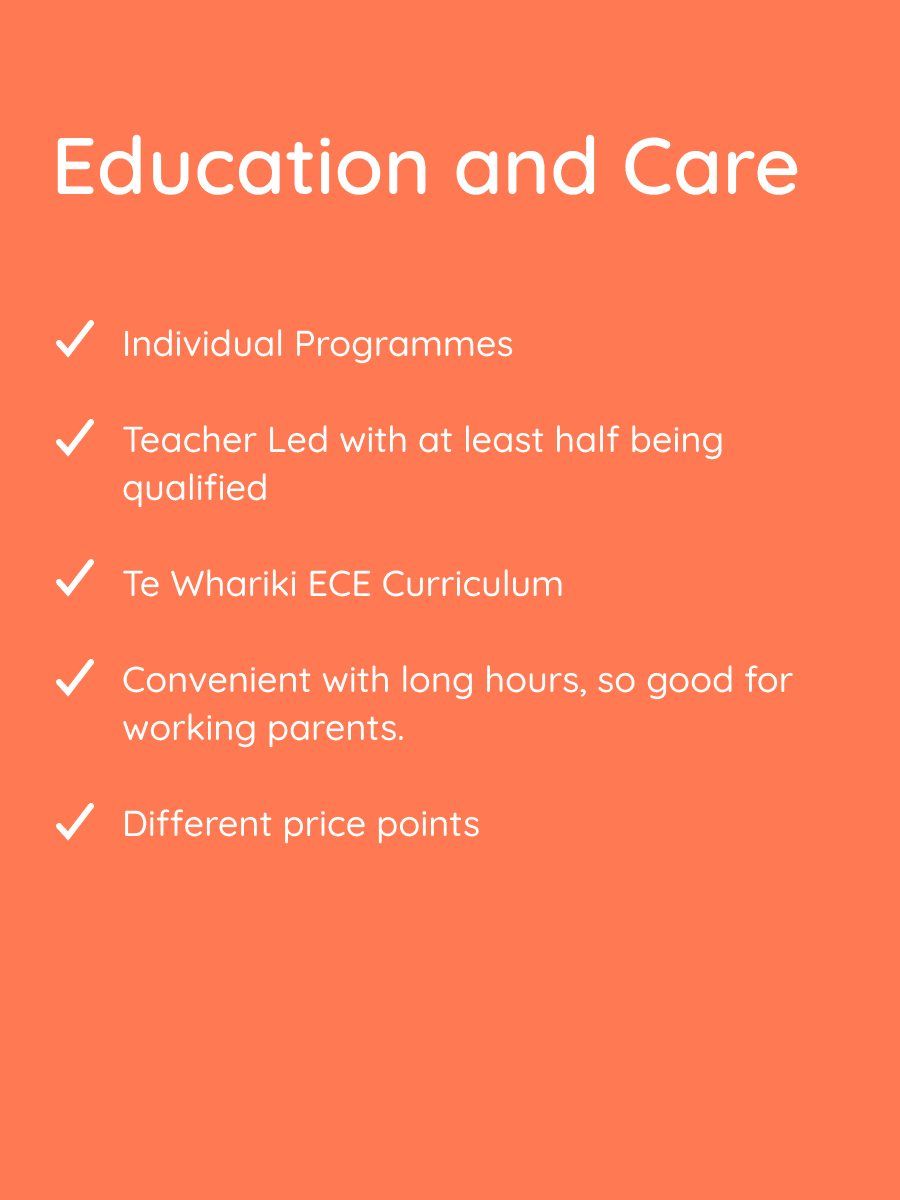 Kindergartens
Kindergartens have played an important role in our culture and society here in Aotearoa for a very long time. They offer community-focused childcare, where the teachers seek to involve families and whānau wherever possible.
With over 30 different kindergarten models, the opening hours and age range varies between centres. Some will have a morning and an afternoon session, while others will be open for school hours, and most kindies only cater for preschool children aged between 2-5.
Why choose a kindergarten?
Kindies place a massive emphasis on providing children with a wide variety of activities and experiences. They welcome community involvement, and as a parent, you will have plenty of opportunities to get involved. Another big attraction for many parents is that 100% of the teachers are qualified, so they generally offer a high standard of education.
To think about…
The affordable nature of kindergartens, combined with their typically high teaching standard, means that there are often long waiting lists for kindies. You have to plan ahead and apply for your local kindergarten well in advance. If you require full time childcare, this may also not be the best option, as few kindies will be open for full day sessions.
Pro Tip: You can see the opening hours of any kindy by viewing their listing on Kindello.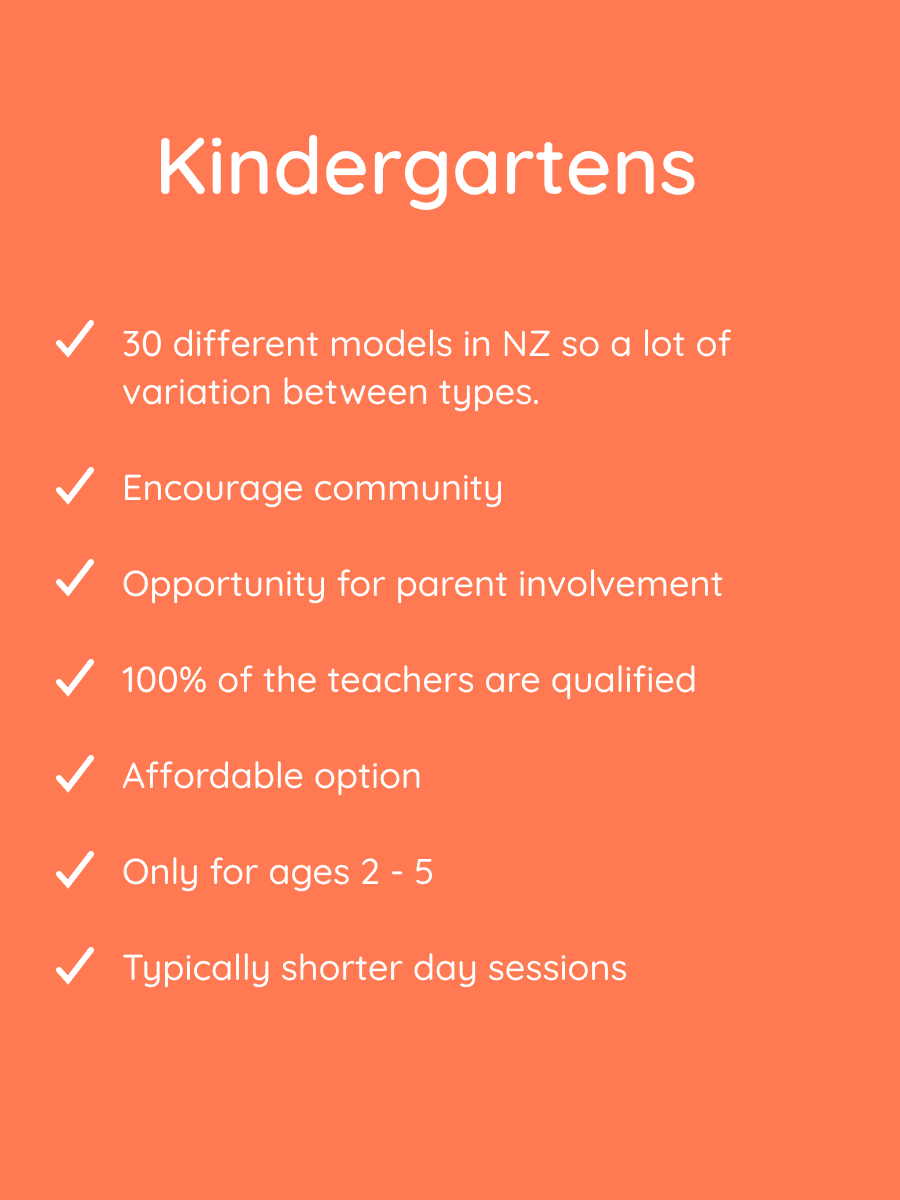 Playcentre
Playcentre offer a parent-focused and family-orientated approach to childcare. All playcentres are run cooperatively by parents and family volunteers, with the overall goal of creating whānau-led childhood education. The learning itself is, unsurprisingly, play-led, meaning there is no shortage of arts, crafts and getting into nature. Children aged between 0-6 are welcome at playcentres, and the sessions vary between 2.5 to 4 hours, depending on the centre. Unlike most other forms of childcare, kids of all ages are free to interact (no age-based rooms), with the focus being on child-lead learning.
Why choose a Playcentre?
The parent-lead approach to childcare that playcentres offer is attractive for a number of reasons. As you and other parents in your community are the teachers, there can be a more personal approach to your child's education. This not only creates a sense of belonging for the kids, but also for the parents who are engaging and teaching with their neighbours and friends. As playcentres are run by volunteers, they also are very inexpensive, with most only requiring a small donation.
To think about…
The obvious considerations when contemplating Playcentre is whether you have the ability/time to attend with your child and whether you prefer a centre to be teacher or parent led. While centres do follow the Te Whariki curriculum, it will be parental volunteers teaching this through play, as opposed to the more formalised early childhood education offered by education and care centres and kindies. But that's not to say a parent-lead approach means an inferior education. For some, parents and other family members are preferred as educators. The key is to take the time to visit a centre and see if it's the right fit for you and your whānau.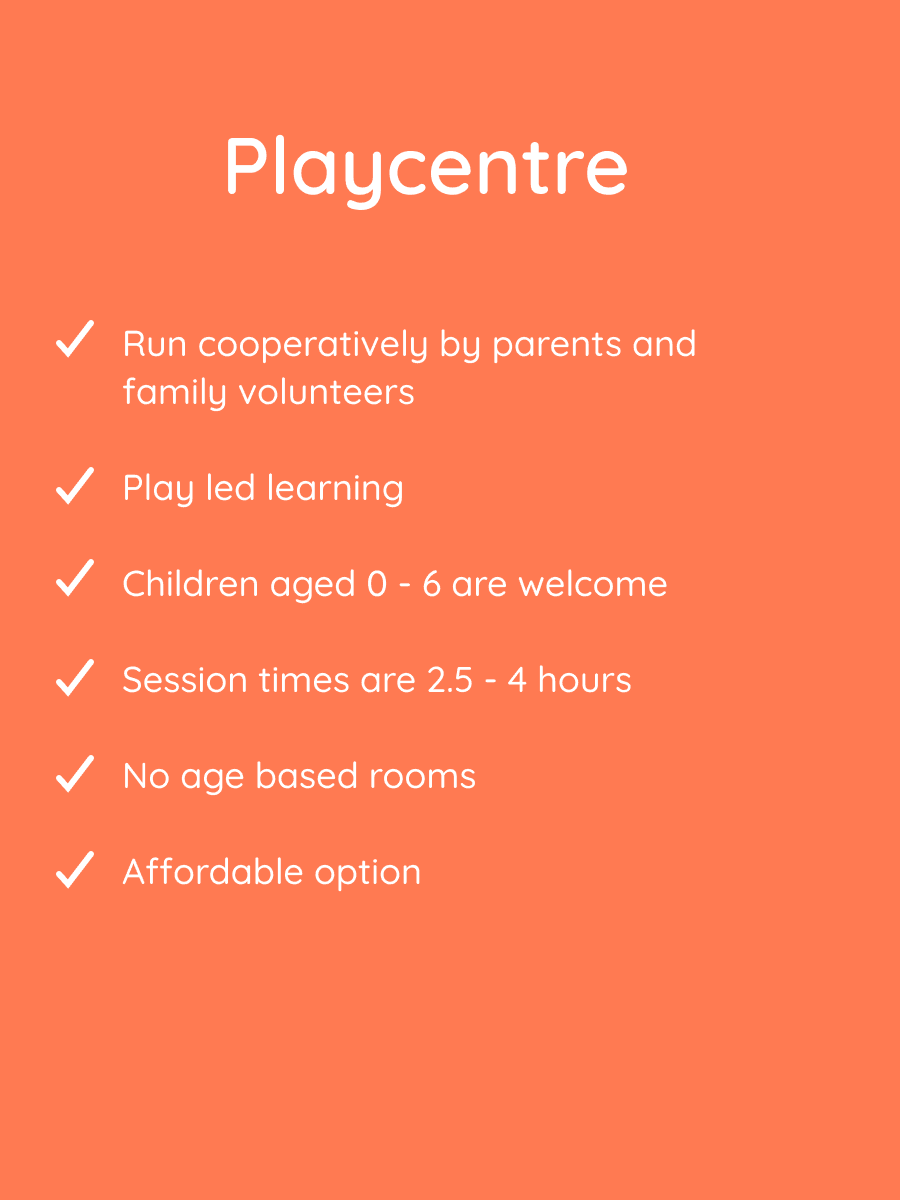 Te Kōhanga Reo
'Kōhanga' means nest, and 'reo' means language, and this speaks volumes about what these centres are all about. Kōhanga reo centres immerse children in Māori language and culture, providing a 'language nest' for te reo Māori. While at a Kōhanga Reo, your child will be taught by whānau in the community who will only communicate in te reo.
Kōhanga Reo are independent, and each develop their own programmes within the framework of Te Whariki a Te Kōhanga Reo curriculum. Pre-school children of all ages are welcome and parental involvement is encouraged, with the emphasis being placed on the mutual growth of the whole whānau, as opposed to just the children.
Why choose a Kōhanga Reo?
Unlike standard early childhood education and care centres, kōhanga reo are purely whānau-led. The structure is set up, in fact, to ensure all whānau play an active role in their kōhanga. This means you will find an engaged community invested in the health and wellbeing of the mokupuna and wider whānau. The teaching philosophy itself encourages children to develop their sense of identity and transfer important cultural knowledge and understanding between generations. For whānau that want to strengthen their cultural identity and use of te reo and want to be involved in their child's education, kōhanga reo is an attractive choice of childcare.
To think about…
As with Playcentre, a key consideration when contemplating kōhanga reo centres is whether you are able to attend with your child (full-time working parents may find this difficult). While every kōhanga reo is chartered by Te Kōhanga Reo National Trust and must stay within the general framework provided by Te Whariki a Te Kōhanga Reo curriculum, each centre is free to develop its own program, and this will be facilitated by parents and community members.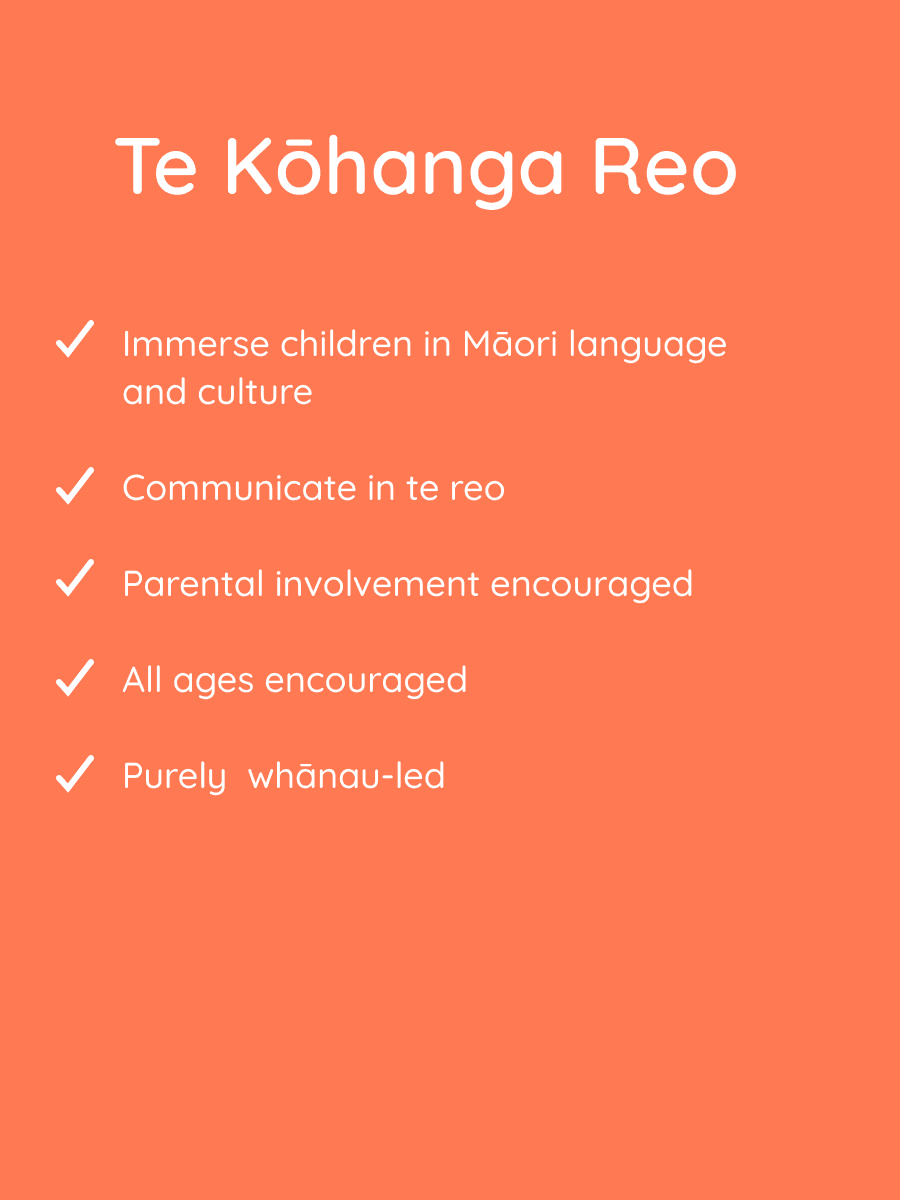 Home-Based Childcare
Home-based childcare is exactly as it sounds: children are cared for in one of the parent's homes, the educator's home or a home nominated by the parents. Besides the location, the biggest point of difference between home-based childcare and other early childhood education (ECE) services is the ratio of parents to children. All home-based childcares have one paid educator and a maximum of four pre-school aged children.
While the educators themselves do not need to be qualified ECE teachers, every home-based childcare has a qualified coordinator responsible for overseeing the children's education. Home-based childcares are also required to have a contact person who is responsible for liaising with the Ministry of Education and be operated by a service provider.
Why choose home-based childcare?
There are many reasons why parents find home-based care attractive, and the ratio between children and teachers is high on this list. Licensed home-based childcares will never have more than four children per home. This makes home-based childcare very personal and gives children a chance to connect with their educator. Another positive for many parents is the 'homely' feel. Leaving your child for the day can initially be daunting for both parents and children, and home-based childcare can soften this transition.
To think about…
Finding the right fit for you and your child is one of the biggest things to think about when considering home-based childcare. Unless you host the childcare yourself, your child will spend a lot of time in another family's home. As the classes are also small, the educator will spend a lot of one-on-one time with your child and will often develop close bonds with the kids in their class. If you find a home with an educator you trust and who respects your values, this can be a massive positive.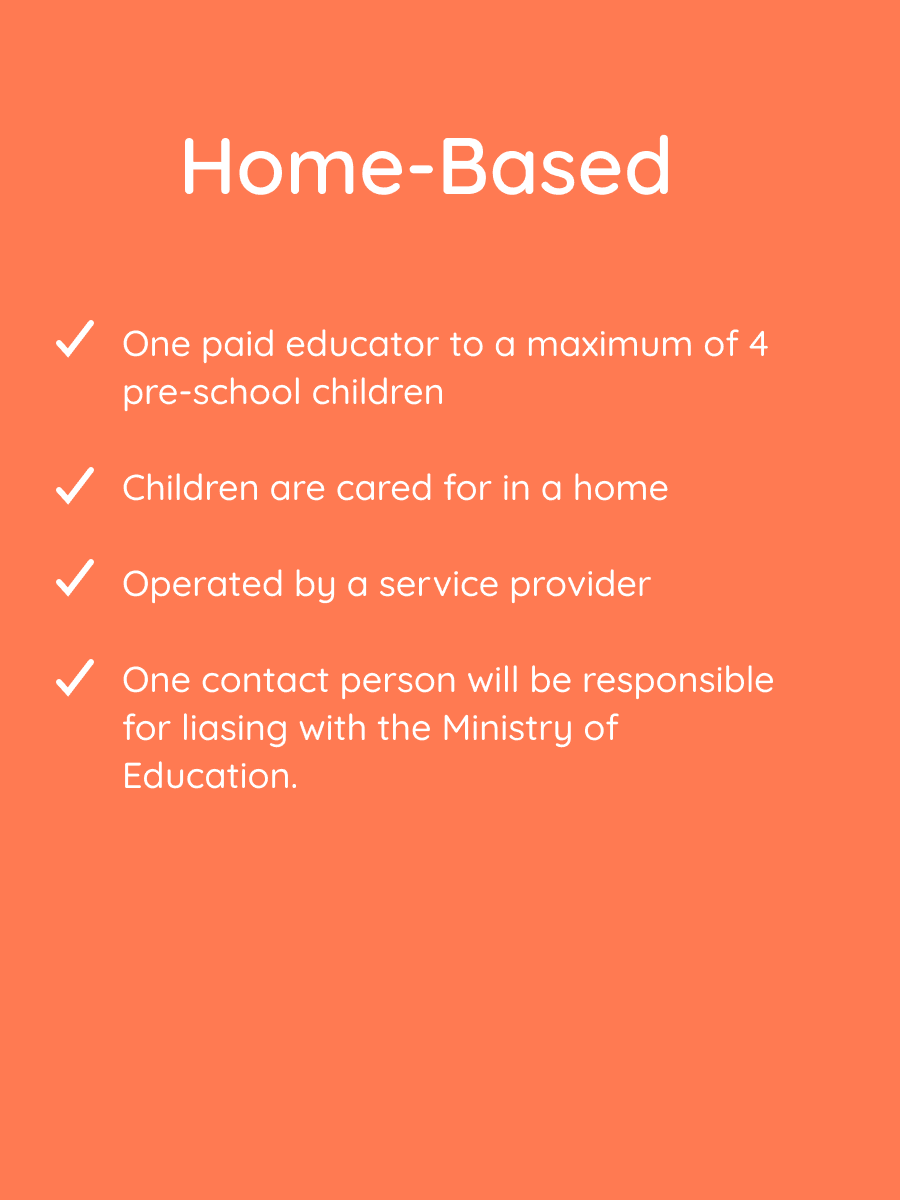 More articles