Megan Hutchison on business, life and the transition from lawyer to motherhood and capturing family memories
We know what a juggle parenting and working can be and we love to hear stories from fellow Kiwi Parents who have carved out a life for themselves in a way that best supports their own family's needs. We sat down with Megan to chat about her transition from lawyer to mother and entrepreneur.
Jessie PetersSeptember 26, 2022
We know what a juggle parenting and working can be and we love to hear stories from fellow Kiwi Parents who have carved out a life for themselves in a way that best supports their own family's needs. We sat down with Megan to chat about her transition from lawyer to mother and entrepreneur.
Thanks for chatting with us today, let's start with getting to know you - can you tell us a little more about you and your family?
My husband Blair and I met in Christchurch and moved up to Auckland for both of our careers (I was a lawyer, and he still is a pilot). We now have two toddlers, Emmie, 18 months and Teddy, three. Neither of us has parents, and our siblings live far away, but we have made many new friends since we moved up, many of which are like our extended family.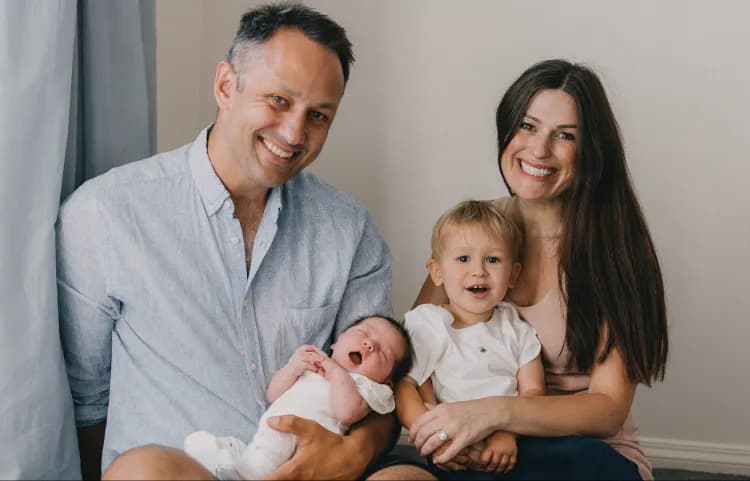 Can you tell us about your career history?
I spent as much of my life as I remember knowing I would be a lawyer. It started when I was young and argumentative, so my family and friends told me I'd be a good litigator. Of course, they failed to say to me that most of being a lawyer is exceptionally long hours and rather more boring prep work than what you see on tv. At University, I did well in mock-trial competitions, but to be honest, my real-life career wasn't all I expected it to be. I started as part of a big litigation team, and there were often quiet times without enough work, and then other weeks, we'd be working until the early morning hours.
With my husband also working irregular hours, I could already see that it would be challenging to have a family - something that has always been important to me. I was engaged at the time, and in those quieter times at work, I wrote a blog about wedding planning!
I rediscovered my love of writing, something I'd always enjoyed as a child, and soon after my wedding published my first book, the little white book wedding planner. Though very small at the time, running my own business felt like a great alternative to continuing with a career I wasn't wholly satisfied with. As soon as I earned enough from my business, I left my job to pursue my 'side hustle'. That was six years ago, and I've never looked back.
What inspired "forget me not journals"?
The business (then called She Said Yes) kept growing, as my life and family did. I created a pregnancy journal when I was expecting my first, and then, of course, I was desperate to make a Baby Book once I had babies. Around that time, I also wanted to change my business name to one that was gender-neutral, and that worked for all of my books (present and future), so Forget Me Not Journals launched at the beginning of this year.
The books were inspired by two excellent books my Mum had created for me (one as a baby, one as a young adult - autobiographical). I loved inspiring other parents and grandparents to write journals for their tamiriki and mokopuna. It took me almost 18 months to create the Baby Book ("Your First Years"), and this might sound crazy, but I published two others while also trying to complete it, including journals to be used from any age, and I feel like the name "Forget Me Not Journals" perfectly encapsulates everything I want this business to be.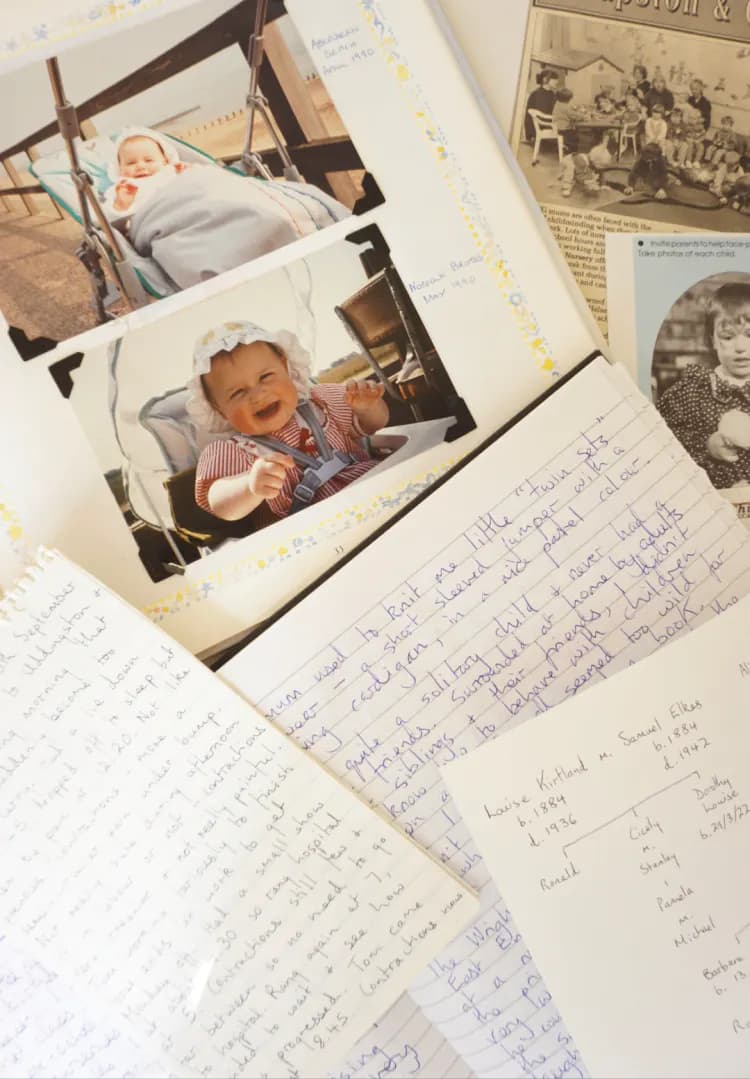 What motivates you as a working mother? How have your priorities changed now that you have children?
That's such a thought-provoking question. Honestly, sometimes I think I just need a break from solely providing for and looking after my children, and work is my 'me time'. It keeps me sane (for the most part), having something else I love to do so much, just waiting for me in the spare room when I can find a moment. I love having the flexibility to be both a working mother and a stay-at-home parent, something I recognise as an extreme privilege.
However, so much has changed since having children - I used to get so focused that I could work all day and night on something I was passionate about. Now I'm lucky if I get a few hours at a time, so I have to be more selective about my work and try to avoid all other distractions while I'm working (easier said than done).
When your children talk about their mother and her work, what do you want them to say?
I am slowly trying to teach Teddy about my work, and he does understand the general concept that I make books that make people happy. I'm pretty happy with that description.
How do you stay consistent at capturing and remembering important memories in your family?
It's important to me, so perhaps I find it easier to prioritise this (while my laundry piles up and my house gets messier and more chaotic). That said, I think it's perfect for spending ten minutes, once a week, on a Baby Book or baby journal and create something wonderful that will be treasured forever. It doesn't take long to write down a few special memories; you can always update them later with photos.
For families who have trouble with consistency, our childhood journals are a great option, as the journal prompts are on stickers, so you can start at any age, use them at your own pace, and not have to worry if you go a few months without filling it in.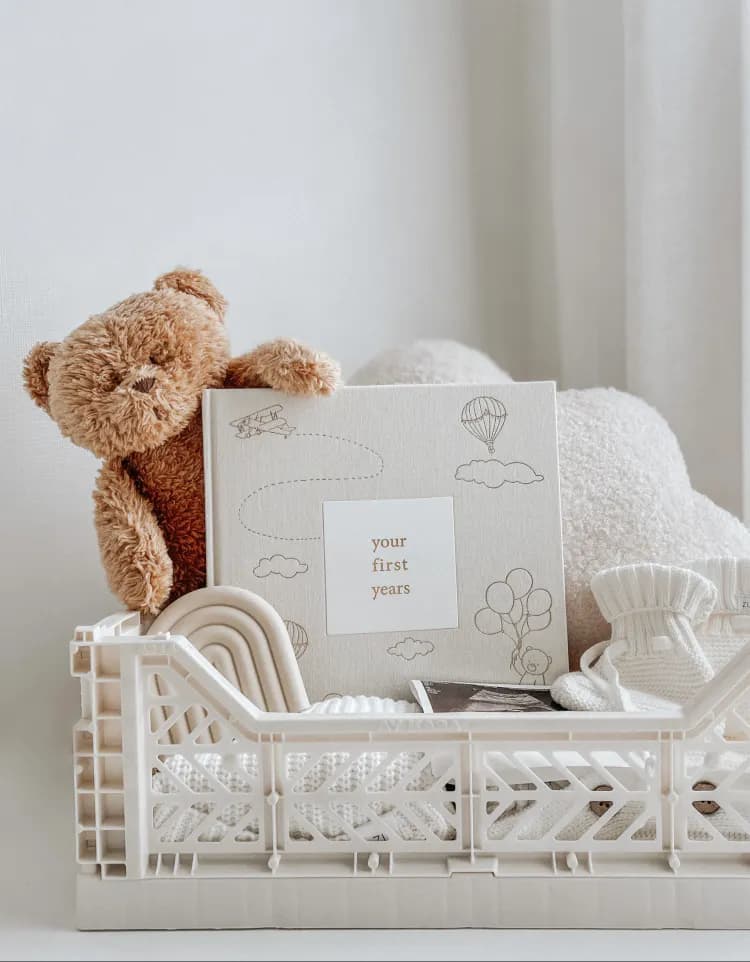 What's one thing or a favourite quote you have on motherhood/ childhood or learning?
"You can do anything, but not everything."
The work of a parent or entrepreneur (and certainly, as both) never ends - so you have to work out what's most important, and don't feel guilty for being unable to do everything you would like to.
What advice would you give other mums wanting to pursue their dreams or return to work?
I know it's a tough decision for some parents to choose when to return to work, and many don't have the privilege of choice - but I think the best thing a child can have is a happy parent, so do what makes you happy. Whether that's pursuing your dreams, returning to the work you did before having children, or finding something in between to suit your lifestyle - so long as you can be happy, playful, and 'present' when you are with your children, I think that's the best we can do as parents.
I also love the saying "Done is better than Perfect", which means, don't wait (until the timing is perfect, the website is perfect, or your photography is perfect, for instance). If you have an idea, a product, a blog or any other dream, and you wait until things are perfect, you'll be waiting forever - there will always be another hurdle in the way of getting it done. Start today.
Next steps
Find out more about forget me not journals here
More articles